Mindful-U's Change Creation Series Presents...
---
Shut down the Sunday Night Blues
(by finding work you love!)
---
Are you done with feeling:
Ready to Register? Click here...
Whether it's changing fields or changing companies, you know it's time to do something different
...
The hard part is figuring out where to start! How do you get from where you are now to where you want to be (and how do you figure out where that is anyway)?
For most of us, taking a giant leap into the unknown isn't an attractive option...
Who wants to make a career change that could leave you broke, struggling and stressed?
Unfortunately, that's the myth being sold right now: To find work you love, you must throw caution (and common sense) to the wind and say "screw it" to your finances.
If you just felt your heart sink, you're not alone. Yes, there are tales out there of people who did exactly that and succeeded (at least, according to Facebook). Unfortunately, there are even more real-life stories about people who tried it, failed in a matter of months and then ended up back at jobs that they hate, after draining their savings accounts.
You want your career change to make you feel FULFILLED, not more frustrated!
The most important thing I've learned over the past 7 years as I've worked with a variety of clients struggling to make the leap from security to satisfaction is:
It is absolutely possible to make a Career Change, and to do it in a way that feels good to you!
I believe that each area of your life should feel satisfying, including your work!
In 2008, I realized that I wasn't getting the fulfillment I was looking for out of my current career path, even though I enjoyed it (for the most part) and was very successful. I spent the next two years exploring, researching and outlining what I wanted from my life and came up with a plan to get there.
Now, I work with clients at all stages of the journey (from early-career to retirement) on creating that same level of satisfaction in their lives and careers.
I created the Change Your Career program to simplify the process, eliminate the feelings of overwhelm that hold most of us back and to help you start living the most satisfying version of your life.
The Mindful-U Change Your Career program will help you:
Identify your ideal career destination
Map out a plan of action
​Create a transition strategy that sets you up for success
Teach you how to feel connected & engaged in your life, even before you make your career change!
---
With the
Change Your Career

Program,
you get the following unique benefits:
Effective & Manageable Program
This course was designed to be completed while you still have a life and a job. Taking time to work through each module for a week or two in between the group coaching calls gives you the ability to gain clarity around your goals & intentions (instead of binge-watching the modules, getting overwhelmed with information and never actually making your career change happen).
Could you finish this program in 30 days? Sure, but we've been told by past students that a longer time frame and giving themselves space to actually do the the work helped them to be more successful!
Real-Life-Tested Strategies for Change
In addition to worksheets, videos and step-by-step action plans, the Mindful-U Change Your Career Program ALSO helps you manage all the emotions that come with feeling stuck, navigating change and making confident decisions. This is more than just a career class - you'll learn valuable life skills to apply to future changes you want to make!
These are the same mindfulness tools our private clients use to keep their lives & career moving forward every single day. No, you don't have to meditate for 3 hours every day to use these tools (unless you want to)!
Lots of Time Dedicated to YOUR Questions!
In addition to the Six Program Modules, there are Six Live Group Coaching Sessions! This is time for you to ask your coach YOUR specific questions, as well as to hear the solutions & challenges of other group members and to work through any blocks that may come up during the program.
Hearing questions from other people can help you solve problems in new ways, learn about new resources and feel like you're not alone in searching for a better career.
"I am

investing in my happiness

, and it has been well worth that investment."
The Mindful-U Change Your Career Coaching Program has been my way of declaring to myself (and others) that I am investing in my happiness, and it has been well worth that investment. Katy has a way of breaking down the complex emotions involved in making a big career change in terms that are more approachable and less overwhelming. She is supportive, kind, full of positive energy, and really funny. The program was a safe space where I could focus on me and the steps I need to take to live the happy, fulfilling life I deserve.
- R.B.
(President, Software Development)
"It's the

best money I've spent on myself

in a long long time.."
I would highly recommend this program to anyone who isn't satisfied with their career and has even the smallest desire to make a change. You have to do the work. But if you go into this program with an open mind and heart and make a commitment to yourself that you're going to do the homework and put in the effort, this class will positively effect your life. It's the best money I've spent on myself in a long, long time.
- A.G.
(Legal Assistant/Paralegal)
If you're wondering if this course can help you make changes you want in your specific situation, here are just a few examples of the transitions our clients have made using this material:
Bored Sales Manager to Motivated Small Business Owner
Frustrated Media Salesperson to Successful Real Estate Investor
Frozen Midwestern Bartender to Beachside Restaurant Manager
Underutilized Marketing Assistant to Enthusatic College Professor
Every person in this class is working their own path. The course will help you map the next steps in your journey and create the skills sets you need to consistently make the positive & conscious choices that will continue to lead you forward. So whether you decide to relocate, go back to school or just make a few adjustments to your current direction, you'll be able to feel confident making decisions for your future.
Ready to Register? Click here...
Stop Waiting for the Perfect Job to find you...
During the Change Your Career Program,
You'll Research & Identify Your Ideal Career
Finding your ideal career, passion project or creative outlet isn't as simple as just swiping right or left on your phone. And it can be frustrating wondering if there is even something out there that you would like to do every day.
This is why we work on creating a vision AND on decision-making skills during this class. While there's no "easy" button or reliable test that will tell you exactly what to do with your life, you'll have the resources you need to make the process effective AND enjoyable!
Allow this idea some space for a minute: What could be more satisfying than spending time focused on figuring out what lights up your heart (and hopefully your wallet)! This really can be fun!
Learn to Recognize & Navigate Common Blocks!
One of the most important aspects in successfully creating any kind of change is figuring out what is getting in your way! Is there a big fear that's keeping you stuck or an idea that you need to examine in order to move forward?
During the course you'll learn:
How to Identify 4 major blocks AND how to eliminate them
How to stay alert to blocks that will come up in the future, so you can address them sooner and more effectively!
Create an Action Plan & an Exit Strategy to get you to your next Career!
Let's get you moving! Out of the emotional stuckness, the mental sludge and the everyday frustration and into making moves that take your life in a direction actually you want to go!
Not only will you create a detailed and personalized action plan, we're also going to strategize on how you're going to leave your current situation, with clear intent! No messing around with "when do I quit" or "what happens after I leave"! You'll have those answers by the time you finish Module 6.
"I came out of the class with a

better and more positive outlook

..."
I really enjoyed Katy's class! She is a very passionate about what she does and creates a warm and inviting atmosphere. I really liked how she incorporates aspects of mindfulness into many different areas that we focused on within the career group. I feel I came out of the class with a better and more positive outlook and gained valuable knowledge I can reference not only for career development but life in general.
- R.C.
(Senior Designer/Art Director)
"Katy's career coaching sessions were

a great first step

...

"
Katy's career coaching sessions were a great first step that I needed to figure out how to transition into a new career. I had no idea which direction to take and which field I wanted to move into and this class helped me establish all the must-haves for my next career move. Would highly suggest this class to anyone who knows they want to change career paths but are unsure how to take the first step.
- R.W.
(Senior Account Manager, Social Media)
Ready to Register? Click here...
How the Program Works...
Over the 12 weeks of The Change Your Career Program, you'll:
work through 6 self-paced workshop recordings & workbooks

you get immediate access to modules one & two then modules 4-6 release 2 weeks later, giving you time to work on your vision and break through your blocks

attend 6 live group coaching sessions where there is plenty of time for live Q&A and to discuss your goals

have access to the private Change Your Career Facebook group, so you can ask questions, share or seek resources between calls and connect with other people working on career change whenever you want

receive 4 bonus workshop modules

and complete your private coaching session(s) with me, Career Strategy Coach Katy Flatau.
If you're serious about having a career that feels amazing SOON, then this is the course you want.
Each module has been designed to take you through the process in the most natural way possible, giving you time to do the research, make decisions, address challenges and set yourself up for a successful transition. Modules take between 1-3 hours to complete, on average, and past students have told us they set aside between 2-4 hours each week to work on the course.
We'll also clearly outline the following important points as you start every section, so you can budget your time & energy accordingly:
Your Goal for this Module is..
The Biggest Challenge for this Module is...
You'll know you're ready to move to the next Module when...
Plus, each module comes with a Mindfulness Strategy that will help you address the fears or blocks that may come up with every set of exercises and actions
Course Schedule: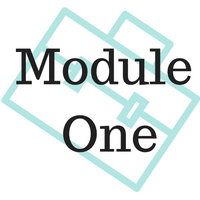 Creating Clarity & Vision
The natural place to start is where you are now and then map a path forward. You'll use your past & current experience to uncover your true desires, create a priority list for your next job and we'll introduce mindfulness strategies to hone your future intentions and clarify your vision.
Identifying & Breaking Through Blocks
Feeling stuck is the opposite of fun. During this module, you'll learn strategies for recognizing and breaking through common blocks that you can use over and over as you address change-related challenges (in any area of your life)
Setting Direction & Decision Making
After creating clarity around your vision and beginning work on your blocks, the next step is to determine scope of focus for your career change. In this module, we lay the foundation for conscious decision-making that leads you into a confidence-filled future. With your new direction in hand, you'll start to map the route to your future!
​
Building Your Network & Your Skill Sets
Once you've determined a direction, it's time to start creating the foundation you need for a successful transition. This starts with simultaneously creating a strong network and enhancing specific skill sets.
During this module, you'll learn to utilize your connections to build your career path and create a strategic pathway that uses your current skills to navigate to the next step.
Effective Action Planning & Successful Goal-Setting
An action plan is so much more than goal setting and to-do lists (though we use those too)! You'll take all the information from the first 4 modules to create a strategy based on knowledge, research and clarity. Then, we'll go beyond traditional goals to set intentions based on your underlying values & emotions (aka the things that help you create success)!
Creating Your Intentional Exit Strategy
Once you've done all the work and have an action plan, it's time to start plotting your escape!
A good exit strategy lets you plan a graceful departure and helps you leave with all the $$ and benefits you've earned. This is the KEY final step in a successful Career Change!
Break Out of Your Comfort Zone Workshop ($97 Value)
One of the trickiest blocks holding many people back from creating change is being stuck in a Comfort Zone. In this workshop, we'll teach you how to identify a Comfort Zone at work and how to break out of it!
Jumpstart Your Job Search Workshop ($297 Value)
In this high-value bonus, our job search guru, Christy Hopkins will take you through the art & science of the resume, how to polish your LinkedIn profile, strategies for writing effective cover letters and the best ways to leverage recruiters in your job search.
Mindfulness for Real Life ($97 Value)
Mindfulness is all the buzz right now and for good reason! As the number of messages coming into our lives increases, so does the need for new techniques to ensure we can still connect with our own thoughts and feelings. You'll learn several effective mindfulness tools, as well as when to apply them and how to make them work in your life!
Career & Values Assessment ($97 Value)
One of our most popular and valuable classes, the Career & Values Assessment helps you to understand exactly where you are on your journey, what values are influencing your decisions and which elements to pay close attention to as you create the vision for your new life.
"If you're honestly interested in changing your life and you're truly ready to do the work necessary to accomplish your goals, Katy is the perfect coach for you."
Katy provided tools to help me get a better idea about changing my work situation and helped me evaluate various opportunities based on what my true intention was for a new job. She always told me the truth, even if it was hard to hear, and I'm in a better place for it. Katy encouraged and supported me along the way and then celebrated with me when I manifested the change I wanted!
- J.D., Atlanta, GA
(Regional Sales Manager)
Ready to start making changes? Now is the time to register!
Get Instant Access

to Modules One & Two plus all the Bonus Modules!
Your $500 discount expires in...
6 Course Modules
6 Group Coaching Sessions
4 Bonus Modules:
#1 Break Out of Your Comfort Zone
#2 Career & Values Assessment
#3 Mindfulness for Real Life
#4 Jumpstart Your Job Search with Christy Hopkins
1 Payment of
$997
$497
6 Course Modules
6 Group Coaching Sessions
4 Bonus Modules:
#1 Break Out of Your Comfort Zone
#2 Career & Values Assessment
#3 Mindfulness for Real Life
#4 Jumpstart Your Job Search with Christy Hopkins
6 Payments of
$197
$97
Six 45-minute Private Coaching Sessions
6 Course Modules
6 Group Coaching Sessions
4 Bonus Modules​:
#1 Break Out of Your Comfort Zone
#2 Career & Values Assessment
#3 Mindfulness for Real Life
#4 Jumpstart Your Job Search with Christy Hopkins
1 Payment of
$1,997
$1,497
Six 45-minute Private Coaching Sessions
6 Course Modules
6 Group Coaching Sessions
4 Bonus Modules​:
#1 Break Out of Your Comfort Zone
#2 Career & Values Assessment
#3 Mindfulness for Real Life
#4 Jumpstart Your Job Search with Christy Hopkins
By clicking the Start Now button, you are agreeing to the Mindful-U, LLC Terms & Conditions.
Why go PREMIUM?
If you've been trying to make your career change happen for a while and have had minimal success or you already know accountability and follow-through are your main obstacles towards achieving your career goals, then the Premium Package may be the best investment for you.
If you're ready to take action and you want the motivation and upgraded level of support that comes with private coaching, then Premium Package is the right fit.
You'll work one-on-one to bust through challenges and create a customized strategy perfect for YOUR career change!
Each session is approximately 45 minutes and is focused on your individual agenda, goals and challenges.
No cookie cutter approach here - the Premium Package is truly all about creating change for YOU!
Not sure which option is right for you? Have other questions?
We're happy to talk...just click here to book a no-charge, zero-pressure Q&A!​
No Questions Asked
Money-Back Guarantee
You are fully protected by our 100% Satisfaction-Guarantee. If you don't feel like the program is right for you within 14 days of purchase, send us an email with your completed Module One workbook attached and we'll send you a refund.
"We stand behind the value of our program and are fully committed to supporting you as you create a career and life that you love"
We spend over 1/3 of our lives at work!
It's never "too late" to start creating a fulfilling career.
Once you've invested years in a career path, it can feel really, really scary to change!
What happens to all your experience? Do you have to start from scratch?
The short answer is no! And the long answer is exactly what we cover in this course.
It may not be realistic for you to hand in your notice tomorrow, but it is 100% possible to start working toward a positive career change today!
The longer you wait to start the process, the longer it will take to start experiencing a fulfilling career. Join me outside of that unsatisfying "comfort zone" and learn how good Monday mornings can feel (really, it can happen).
FAQ
Here are answers to some frequently asked questions about the program:
Additional questions? Please reach out to us at expand@mindful-u.com and we'll be happy to discuss them with you!
How does the course work and when does it start/end?
What is Private Coaching?
Why don't I get everything at once?
How does Group Coaching work?
Tell me more about refunds & cancellations?
How much time will the course take?
LEGAL DISCLAIMER:
All featured client quotes demonstrate an idea of what is possible through participation in this program. Purchase of this program does not in any way guarantee that you will change your career. Success with this program will depend on the participant;s own dedication, input and commitment to completing all provided exercises and tasks both during and outside of the course schedule.
The services provided in this program are here to educate individuals on finding a new career. Katy Flatau, Christy Hopkins and Mindful-U, LLC are not in any way responsible for any decisions made by participants in this program. All participants take 100% responsibility for all actions taken as a result of this program and hold Katy Flatau, Christy Hopkins and Mindful-U, LLC harmless from all legal action relating to the program.

Copyright © 2016 Mindful-U, LLC, All rights reserved.

No part of this web page or coaching program may be reproduced or transmitted in any form or by any means, mechanical or electronic, including photocopying and recording, or by any information storage and retrieval system, without permission in writing from Katy Flatau.