Have you been thinking it's time for a career change?
Maybe you're totally ready for a shift in your day-to-day focus?
Ideally, one that creates less frustration and more fulfillment!
It can be easy to know you're ready but hard to figure out the first step to take…
Mindful-U can help you identify that initial step and help you map out a plan for the personal career and life change that is just right for you!
Begin your journey to more satisfying Sundays (and Mondays, Tuesdays…etc)!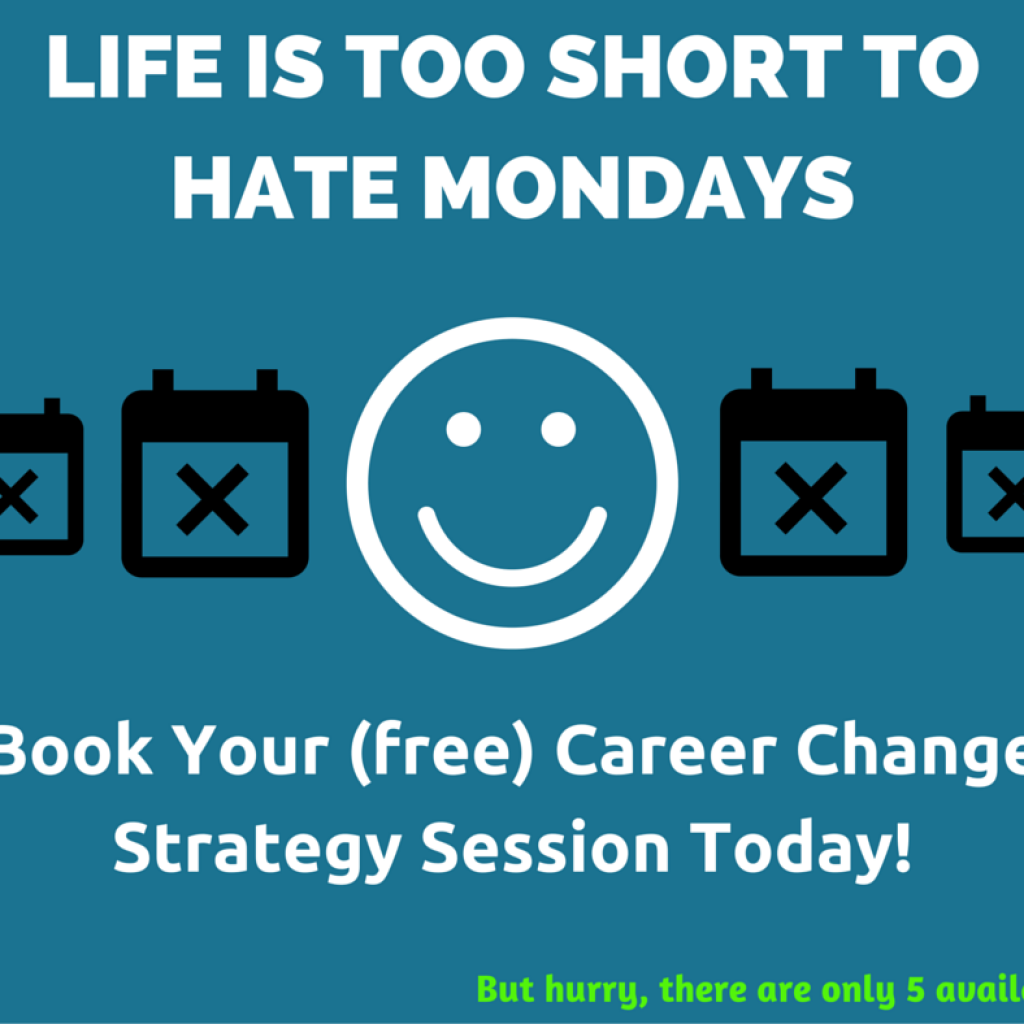 All sessions are on the phone or via Skype and are free of charge (but there are only 5, so don't wait to claim yours!)
Questions?  Reach out to Katy & Mindful-U at expand@mindful-u.com
Why work with Katy on your Career Change?
Here are thoughts from Katy's Private Coaching Clients and Workshop Attendees:
---
I've been seeking the sort of help and advocacy that Katy offers for a long, long time now. In the course of one session she managed to guide me toward connections, insights, intentions, and possibilities that have been lingering below the surface for years. – A.M.   Portland, ME
---
If you are honestly interested in changing your life and you're truly ready to do the work necessary to accomplish your goals, Katy is the perfect coach for you.  Katy provided tools to help me get a better idea about changing my work situation and helped me evaluate various opportunities based on what my true intention was for a new job.  Katy always told me the truth, even if it was hard to hear, and I'm in a better place for it.  Katy encouraged and supported me along the way and then celebrated with me when I manifested the change I wanted!  – J.D.   Atlanta, GA
---
I have worked with Katy on several occasions and have always enjoyed her positive attitude and great ideas.
Katy has helped me break through several barriers that were preventing me from changing my career path.  After several coaching meetings with her I was able to overcome my brain blocks and step outside of my comfort zone.  She did it with her career and who better to coach others on doing the same?   Katy is professional, open-minded,and is a master at connecting with people through her excellent listening skills and ebullient spirit.  I encourage you to work with her as a career coach.   You will be totally gratified at the experience, results, and the many paths that her coaching collaboration will help you discover. – N.S.  Washington DC  
---
The Mindful-U Career Change Coaching Program has been my way of declaring to myself (and others) that I am investing in my happiness, and it has been well worth that investment. Katy has a way of breaking down the complex emotions involved in making a big career change in terms that are more approachable and less overwhelming. She is supportive, kind, full of positive energy, and really funny. The program was a safe space where I could focus on me and the steps I need to take to live the happy, fulfilling life I deserve. 
– R.B  Chicago, IL
---
I really enjoyed Katy's Career Change Coaching Workshop! She is a very passionate about what she does and creates a warm and inviting atmosphere. I really liked how she incorporates aspects of mindfulness into many different areas that we focused on within the career group. I feel I came out of the class with a better and more positive outlook and gained valuable knowledge I can reference not only for career development but life in general.  – R.C.  Chicago, IL
---
I was nearing six months as a brand-new small business owner, and was completely overwhelmed, burnt out, and exhausted but didn't know how to slow things down enough to stop feeling like I was treading water, let alone take a BREATH. I met Katy and found out about mindful-u on a day when I was feeling especially depressed and anxious, and not only was she genuinely warm and comforting, I immediately felt that she understood my situation and could relate to me. I signed up for a multi-session package and I was consistently thrilled with the tools I was left with after each session, as well as a sense of calm and clarity I hadn't felt in a long time. Though I know I have a long way to go, working with Katy has helped me identify and stop the cycle of 'reacting' and taught me what it means to live 'intentionally'.  – J.H.  Chicago, IL